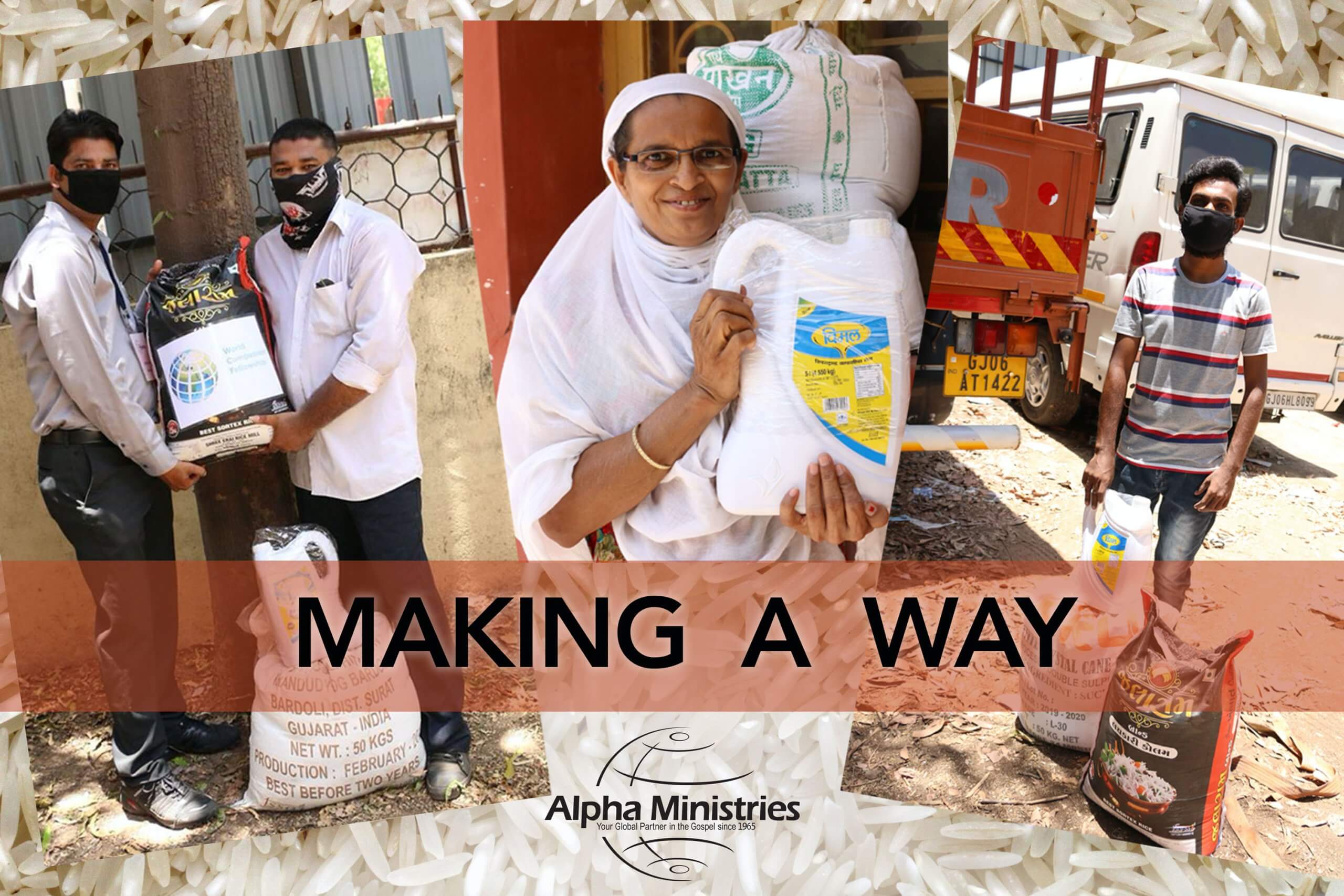 You are making a way for people who thought there was no way!

The mission of Alpha Ministries has always been to share the gospel, reach the unreached and unengaged, make disciples and plant churches where no church exists. Quite often, this mission takes the form of serving the most basic needs of men, women and children when poverty, persecution or disaster strikes.

CoVid19 has caused a wave of food insecurity around the world. Recent estimates predict that more than 265 million will be facing hunger by the end of the year.

Thanks to the compassionate giving of friends like you, Alpha Ministries is able to distribute essentials like rice, lentils and oil, as well as basic hygiene supplies to families in great need. Ajay, Meena, and Mukesh are a few of those who are extremely grateful for Alpha partners who are making a way for them to receive emergency relief just in time.

Ajay is a mobile food cart vendor who lives with his five-member family in Danteshwar. Since the lockdown started he has had no work or income. He has loans on his business that he can't repay and he hasn't been able to purchase food for his family. "I can't thank you enough," Ajay said with a tremendous look of relief. "I was becoming worried we would not survive before you helped us."

Meena has been a widow for 14 years. She was working in a nearby school as a maid when CoVid19 lockdowns began. She lives with her daughter who requires regular medical care and treatments. Being without work all this time has put an incredible strain on them both. What little money she had saved has been depleted trying to continue her daughter's treatments. They were having to choose between medical care or going hungry. Through tears, Meena expressed her deep appreciation for the food she received. "Now we can eat, and I can focus on continuing my daughter's care."

Mukesh lives with his aged mom and younger brother in Sama. He worked as a clerk in a local library but was laid off when the lockdown started. Faced with uncertainty about the future and with no income for the last few months, the family began to ration what little they had. They agreed to just one meal a day so that their supplies might last longer. Mukesh was very concerned about his elderly mother surviving this ordeal. "This is a lifesaver. I have been so worried about my mother and keeping her alive. Thank you so much Alpha partners!"

Through your support, you are making a way and saving lives in India and South Asia. Thank you for being a blessing to others who are suffering in the midst of this pandemic. To give today, visit www.alphaministries.com.

And do not forget to do good
and to share with others,
for with such sacrifices
God is pleased.
Hebrews 13:16niv