The Founder and President of Alpha Bible Churches of India, Pastor Mathews, was transformed when he heard The Great Commission preached at a tent meeting in a little village in Kerala. Little did he know that his entire life would be dedicated to spreading the Gospel to the "uttermost parts of the world."

Christians lead a comfortable life in Kerala where there has been a vast Christian influence since the first century. With very little industrial influence in this southern region, traveling to far places, let alone as a missionary, was highly unlikely. In the 1960s, cars and telephones were rare in the entire state. Even mail took over a week go from Kerala to the northern states. But after attending Bible college, Mathews was determined to follow the call of God to take the Gospel to the northern regions of his great country.

He moved to the city of Baroda, located in the northern state of Gujarat. The journey via steam engine trains took more than three days. After years of prayers and labor, the work– now primarily located in North India– has "spilled over" its borders into Nepal, Myanmar, East Africa and other countries as well.

From the earliest days, two factors caused the direction of a mission-driven man to become a mission-driven movement: the emphasis on discipleship and the emphasis on missions.

As a new believer, God allowed Mathews to be surrounded by others who were willing to love, nurture, mentor, and disciple this twenty-year-old farmer's son who had been thrown out of his home because of his stand for Christ. Discipleship was also important to him because he knew from studying the Scriptures that discipleship was important to God. Mathews saw the priority that God places not only on the salvation of a soul, but on the discipleship of that soul as well. Pastor Mathews has always had the fervor to preach Christ and plant churches among the unreached and unengaged people groups, yet even from the early days, he looked beyond the borders of India.
The Man Behind the Mission:
How God called Pastor Mathews from the most unlikely circumstances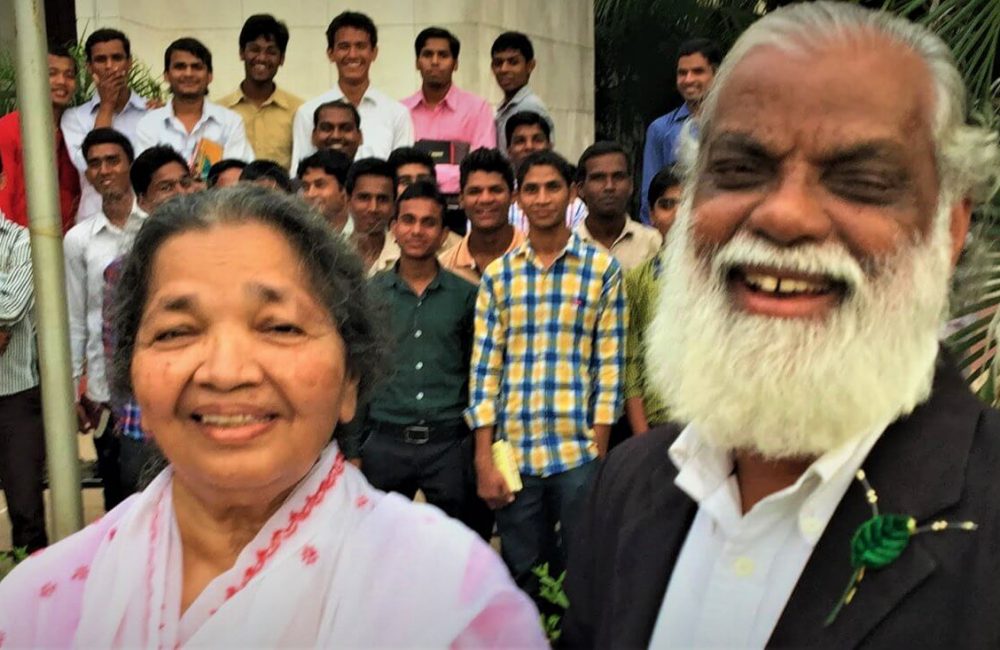 On January 30, 1939, Mathews was born as the 8th child of Pothan and Rachel Mathai (now Mathews). Pothan was a hardworking farmer in the state of Kerala. He was a well-to-do man who owned his own land and was the head of a large family. The Mathai family had been members of the local Christian Orthodox church for generations. Mathews's parents brought him up with Christian values. He received Jesus as his personal savior on January 15, 1955, in his Sunday school class. From that time onward, he was touched by the love of God.

After the tent revival meeting, he knew he had to be baptized. His parents were opposed to this decision because it was against the tenet of his parent's church. They tried to discourage him. But Mathews was baptized, and when he reached home his father waiting for him at the door.

His father said, "You have defiled my name in this community by going against our belief and getting baptized. I will accept you as my son if you let me pour hot water and wash your baptism off."

Of course, Mathews didn't agree. His father was so furious he did not allow him to enter his home. Mathews left his home with only his Bible in his possession. For several days, he slept on the streets with the Bible as his pillow. Later, he moved to Alleppey and found a secular job. Mathews heard the calling so clearly, like Abram in Genesis chapter 12: 1-3, to go to an unknown place and people, and to leave his family behind.

In 1961, he dedicated his life to full-time ministry. Until God directed his steps further, he stayed put and preached the Gospel in different parts of Kerala. Later, a friend introduced him to a Bible college in association with the IPC church in Kerala. While at the Bible college, his marriage was arranged with Grace, daughter of George and Mariamma. They got married in 1963. She was a woman wholly committed to the Lord and became a great blessing to him all his life.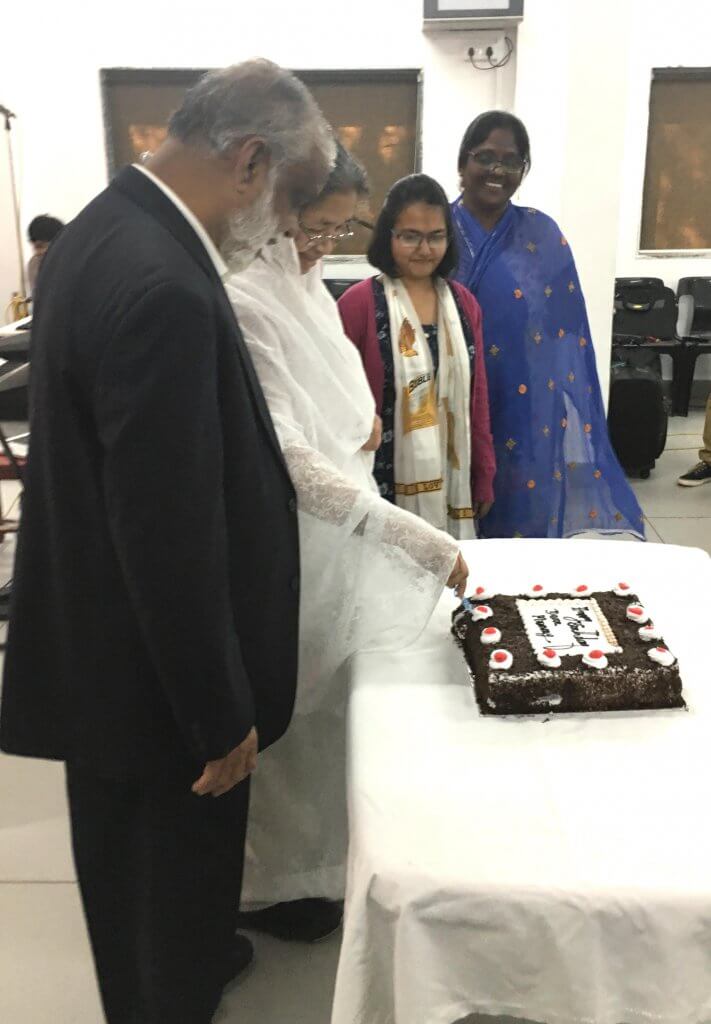 Grace: The Woman behind the Man with a Mission
Like Mathews, Grace was also born into an Orthodox Christian family. Her mother was a devout Christian who was keen on teaching her children the ways of the Lord. When Grace was five years old and playing in the field with her siblings, she saw Jesus looking at her from the sky. She called her mother right away, but only Grace could see Jesus waving at her.

Three years later, when she was eight years old, she saw letters aflame which read, "I am the Light of the world. Follow the Light." She knew God's calling on her life was special. Growing up she had prayed for God to bless the nations and bring the Gospel to the nations. She had heard a lot about communism in China, so she used to pray for China, and that God would send her as a missionary.

At the age of 11, God saved her from dying under a collapsed roof. She was asleep, and she heard a man tell her to wake up and leave the room. She opened her eyes and realized it was only a dream, so she went back to sleep. This happened two more times, and she realized that God was speaking to her. Right after she took her bedding to a different room, the ceiling where she had been sleeping collapsed. The floor was cracked, and her cot was destroyed. But the Lord's hand was upon her.

At 17 years of age, she was headed to a Bible college because of her love for God's word. It wasn't by accident that she was arranged to be married to Mathews, one who was also called to missions.
The One Who called you will be Faithful until the very end
After they graduated from the Bible college, they served the Lord in Kerala. During that time, their first son, Benny was born. Now God was really directing them outside their "Jerusalem." When Mathews got an opportunity to go to Itarsi, Madhya Pradesh for a Bible Training Program, he left with his wife and son still in Kerala. When he had completed the training, his wife and son joined him there.

In October 1965, they left Itarsi to come to Baroda, Gujarat. For the young family, it was like arriving in a different country; everything was different: food, clothes, climate and culture. In those days, it was a three-and-a-half-day trip by train from Kerala to India. The Mathews family were strangers in the city. They had no financial support, either. Many of their friends and relatives back home doubted if they would ever see them alive again. They had already mocked Mathews' decision to go to a foreign land. The Matthews family did not know the language, culture or region. They did not have a church, mission or denomination supporting them. This was a true-life adventure in faith.

They decided their first step was learning the local languages: Hindi, the national language, and Gujarati, the local language. These languages were completely different in script and sound from Malayalam, their mother tongue.

Their first need was shelter, but they had very little money to rent a home. Soon after arriving, Sister Grace saw an empty house. She asked the owner why it wasn't rented. The owner told her that evil spirits haunted it and so no one was ready to take it. Grace knew that evil spirits were no match for her God. Surprisingly, she only had to pay a fraction of the actual rent of the house.

The family dedicated the house to God. The Mathews knew that God had provided that home as a place to raise their family and to begin what was to become Alpha Bible Church. It was a small home with two 10X10 rooms, a veranda, and a kitchen – a home to eventually house Mathews and his eight children, visitors, and church services.

As time went by, Mathews learned the local Gujarati language, and he was soon able to minister to the local population. For what seemed like a long time, he would conduct Sunday morning services in his living room with his family, the only church members. Every Sunday, Mathews and Grace emptied their room to worship. They moved all their belongings to the veranda in anticipation of people coming to worship. These were the early days of Alpha Bible Church, and soon after the Lord added to the assembly.

God not only blessed the church with growth, he blessed the Mathews family as well. Soon Finny, Feby, Denny, Davis, Jimmy, and Lovely were added to the family. Unfortunately, they lost their precious daughter Feby at the age of three, due to untreated typhoid and pneumonia because they could not afford medical care, and she went to be with the Lord. It was a loss that rocked their fervor and faith for a short time.

After the death of their baby, Feby, people thought this would be the end. This grieving family would move back to Kerala and to all the comforts of home. It was difficult to continue without any regular monthly support. For over 18 years, they suffered hardship with few results. They raised a family of five boys and one girl, seeing them go to bed hungry many times, but they remained faithful to their call.

For nearly two decades, Mathews had only a Bible and a bicycle and was faithful to leave early morning on his bicycle to preach the gospel all day. Every evening he returned with a story to share of God's faithfulness on his missionary journey.

God would often allow Pastor Mathews to lead people to Christ who had family in the outlying areas of the city. The new believers, as they were discipled in grace and knowledge of Jesus Christ, became increasingly burdened for their own family and friends. Pastor Mathews was equally burdened for the unreached as well. Several times a month he would leave Baroda to travel, usually on foot, to the tribal areas that surrounded his hometown. As time went on, God allowed Pastor Mathews to see many come to Christ from many different villages and many people groups. It was the merging of his commitment to discipleship and missions that continually drew Pastor Mathews back to the outlying villages to nurture and disciple believers in these villages. This was the beginning of a number of new local churches that were being planted in areas where no church had ever existed before. One church soon became over two thousand church plants.

The discipleship and mission focus is still working today. As new believers grow, they share their new-found faith with others and many come to faith in Christ. They are discipled and share their newfound faith with others, and this is the domino effect that the Lord desires out of our ministry. As God grew the original local Church and an increasing number of village churches, God started calling other men into this ministry. Some would come from nearby areas while others would come from distant villages. They would stay in the home of Pastor and Mrs. Mathews for days at a time, studying the Word of God and absorbing his vision.

On weekends, the men would go to the surrounding neighborhoods and preach Christ and plant churches where no church existed before. All it takes for one man's vision to become a movement is for someone to follow. Pastor Mathews and his wife, Grace, affectionately known as Mother Grace, are just doing what God told them to do: no thought of a movement, no thought of an organization, no thought of a legacy. However, God had other thoughts, "…higher than our thoughts…" (Isaiah 55:9).

God has plans for our lives beyond what we can ever imagine; a little 10'x10' room that was the first meeting place of the Alpha Bible Church gave birth to hundreds of churches in many developing nations. As the vision to reach unreached and unengaged grew larger, the fire began to burn and spread from village to village in a land that had never heard the Gospel of Jesus Christ.

God honored their faithfulness and used them to plant hundreds of churches in India and across the border in Nepal, Myanmar, and many other nations in Africa and Asia. The hand of the Lord has always been with the ministry, and the Lord is continuing to add many people to the church. The one who called the Mathews family to His work is faithful, and He who started a good work in each one of us will continue it until the coming of our Lord Jesus Christ.
Pastor Mathews and wife Grace started their ministry in Kerala
Moved to Gujarat and started pioneer church planting work in Baroda, Gujarat
Established their first Church in Baroda City, Gujarat State
Held their First Annual General Convention in Gujarat
Started Bible School in the house of Pastor Mathews & Grace
Launched first Impact Ministry Conference
Established first 100 churches and commissioned leaders
Celebrated 50 years of God's faithfulness
Trained 26,000 people through IMPACT Leadership Conference