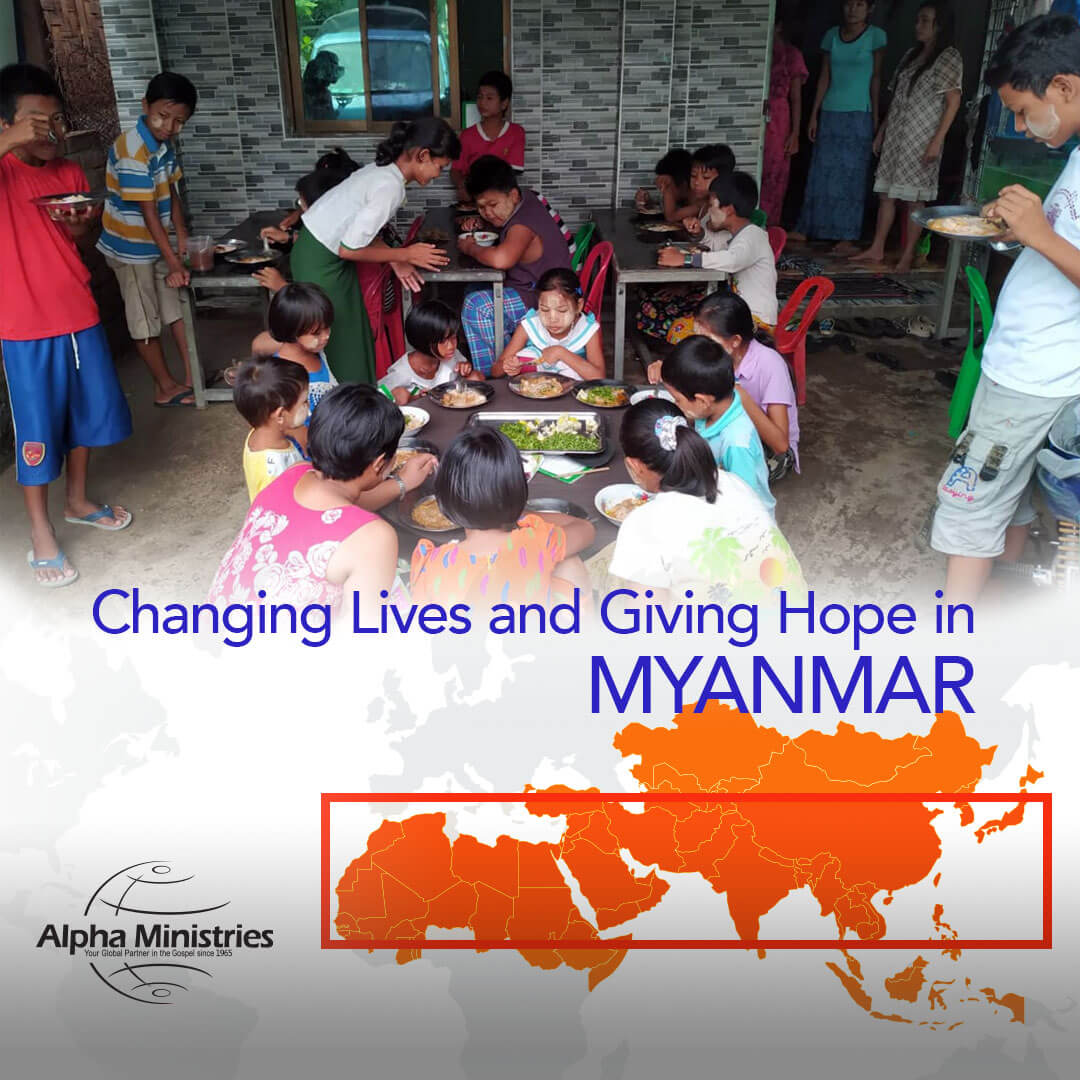 We are grateful for the impact we are able to make in the East Asian nation of Myanmar (formerly Burma). James, our young missionary leader, and his ministry team have been effectively doing an outreach and discipleship with the youth from the regions that border Bangladesh, Thailand and China. Decades of civil war and ethnic strife have left the region plagued with poverty, drug addiction and hopelessness.

The youth in our program are being fed spiritually and physically as they are nurtured to wholeness in Christ. So far, 48 young people have been transformed, gone through intense discipleship and Bible training, and sent out as emissaries to reach other young people and lead them to faith in Christ.

Alpha Ministries has been standing with Pastor James and his team for over a decade. Recently, construction was completed on a two story building that will house future discipleship students. The spacious, fully furnished facility is an answer to prayers. Thanks be to God for our generous supporters who have made completion of this vision possible!

Myanmar has nearly been destroyed by ethnic strife, and there remains a strong divide between ethnic groups. Pastor Thet belongs to a persecuted tribe that has suffered much agony historically. Working in slums among the poorest of poor, he has successfully been able to establish a cross cultural ministry.

Since stories of children being trafficked were rampant in the area, Pastor Thet knew the children desperately needed to be guided and cared for until they were old enough to acquire skill and move on in life. As he came face to face with one heart breaking story after another, he decided to start a children's home to house orphans and poor, underprivileged children.

Thanks to our caring partners, Alpha Ministries was able to come alongside Pastor Thet and his work to help him set up a three-story home where children can stay and receiving nurture and discipleship. There are currently 24 children are being cared for from many different ethnic groups. Some are affected by HIV and have emotional scars from abuse and neglect.

For a nation like Myanmar with so many unreached and underprivileged people, the task is huge. But we are grateful for the doors of opportunity that the Lord has opened. We can be a blessing to the nations because of the faithful prayers and support of friends like you!

To make a difference in Myanmar and other regions within the 10/40 window today, please make a secure online donation today. Thank you and God bless you!