VBS & Children's Bible Club Scholarship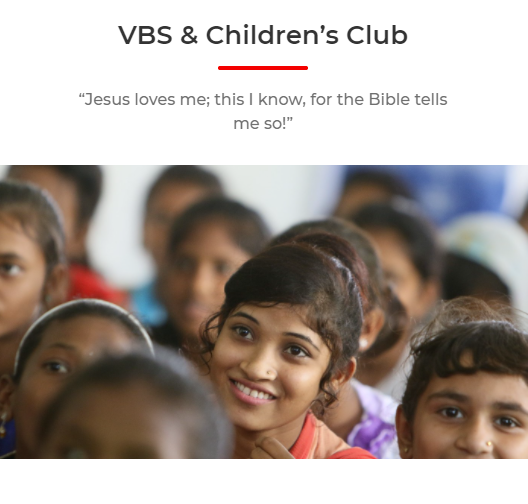 The ISSUE
Children need to hear the Gospel.  But in a culture dominated by so many different religions, children grow up never hearing about Jesus.  The older they get, the more the false religious beliefs become ingrained in their hearts and minds.  Millions of children in South Asia would love to hear the story of Jesus even once.
The INSIGHT
Alpha Ministries Vacation Bible School and Children's Bible Clubs presents the Gospel of Christ and basic Biblical principles using age-appropriate materials, games, songs, and activities.  The natural curiosity and wonder of childhood create a wonderful opportunity to share God's love in a manner that most often from the children to the parents. 
The IMPACT
For just $10, your gift of VBS materials for one of these precious children will guarantee that he or she will hear about Jesus' love again and again through skits, Bible songs and teaching and will have colorful Gospel literature and other gifts to take home. Your $30 will send a needy child or youth to a life-changing camp or provide Children Bible Class with materials and tools.
The INVESTMENT: $30