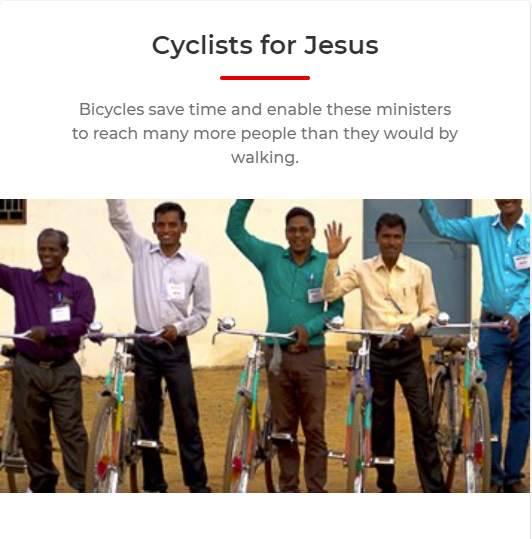 The ISSUE
More than 26,000 front-line leaders have been trained through IMPACT Leadership Training to be effective pastors and front-line messengers. They are stationed throughout Africa and parts of Asia. These front-line messengers are sharing the love of Jesus in a country where millions have yet to hear His name. Many frontline messengers must walk 20 to 30 miles per day to minister. They need bicycles to help them reach as many people as possible with the wonderful news that Jesus loves them.
The INSIGHT
Bicycles save time and enable these ministers to reach many more people than they would by walking.  Time savings increases impact of ministry and multiplies the number of people reached.  Plus, this simple ministry tool adds to the quality of life to the one ministering.  This tool will help frontline messengers bring Christ's love to the unreached.
The IMACT
Your gift of $100 will provide a bicycle that will enable a servant of the Lord to "reach the unreached" and plant fellowships where no church exists. Pray that the unreached and untold will listen and will find eternal hope and healing in Christ through Cyclist for Jesus.
The INVESTMENT: $100