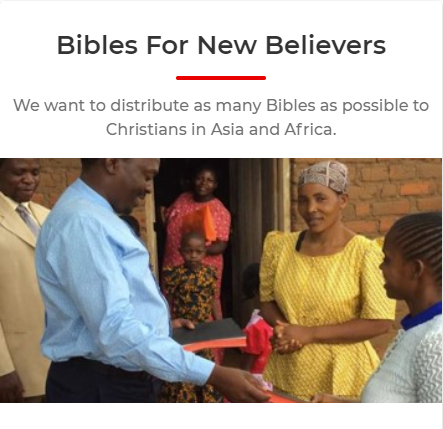 The ISSUE
While the Bible remains the most popular, widely read book across the globe, more than two billion people have never had a chance to read God's Word. It is estimated that over 500 million believers worldwide do not have their own Bible. Churches across Asia and Africa have gone without Bibles for years. Did you realize that more than 95% of people in India have never owned a Bible? In addition, there are 15 different languages spoken throughout the country, and several rural areas are inaccessible. Finding a Bible is difficult for a follower of Jesus. Every believer in Jesus Christ should have access to a copy of the Scriptures.
The INSIGHT
We want to distribute as many Bibles as possible to Christians in Asia and Africa. Not only will these Bibles be studied and treasured, but believers will also have scriptural insight to share the Gospel with their unbelieving families and neighbors.
The Impact
The Bibles provided will help the villagers and city dwellers who receive them to grow in the knowledge and truth of God's Word. Since Alpha Ministries began, over 480,000 Bibles have been placed in the hands of new believers to study and grow in their walk with the Lord. Incidentally, this number does not include the New Testaments, Bibles in Backpacks, and children's Bibles that have been distributed.
The INVESTMENT: $5 per Bible