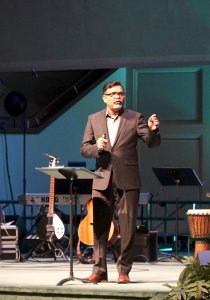 Pastor Bennie
Chief Executive pastor
Pastor Bennie is a follower of Jesus Christ, President of Alpha Ministries, and Chief Executive Pastor of Alpha Bible Churches in Asia. Bennie followed in the footsteps of his parents, two pioneers of the faith in North India.
In 1994, he resigned his job in the health care in New York City to become involved in the work of Alpha Ministries. He later received an invitation from Dr. Jerry Falwell to join Liberty Bible Institute. A series of life-changing experiences happened there under the leadership of Dr. Harold L. Willmington.
Bennie spends most of his time speaking at seminars in Africa and in Asian countries, empowering Christian believers who are persecuted for their faith. He is called to motivate, mobilize, and support the national evangelists and pastors to reach the least-reached for Jesus Christ.
Bennie is one of the global speakers for The Voice of the Martyrs' Conferences. Whether he is mentoring and serving in his local church or on the mission field, Pastor Bennie has been empowered by God with the ability to encourage others and to nurture belief in God's endless possibilities. He has authored and coauthored the following books: Passage to the Unreached, My Father's Business, Short-Term Missions with Long-Term Results, and In Peace Not in Pieces. Bennie has been married to his wife, Lina, for 30 years, and they have been blessed with three children.
His purpose statement: To make Christ known in places where they have never heard the Gospel, mobilizing natives to accomplish God's global agenda among the least-reached.​