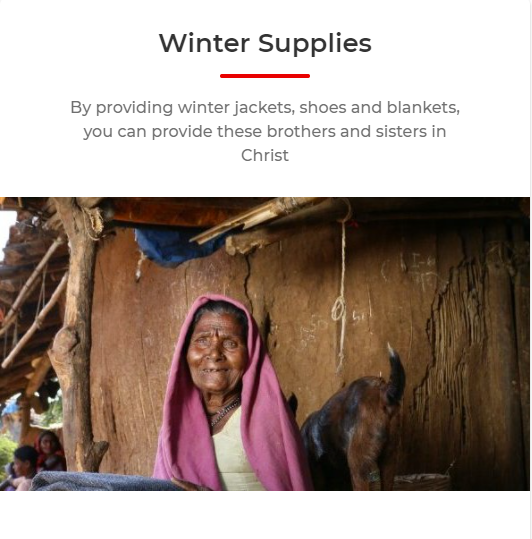 The ISSUE
In areas in Asia, the temperatures plummet during the winter months.  Many frontline messengers and their families live in homes that lack sufficient heat and protection against the harsh winter elements.
The INSIGHT
By providing winter jackets and blankets, you can provide these brothers and sisters in Christ with much-needed warmth and comfort.  When comforts are provided and protection from the elements are met, then the servant's attention can go to ministry and other more valuable use of time.  In warm clothes, a minister can move about rather than huddle by a fire.  The distraction of cold can hinder Bible study or basic household movements.  Also, meeting the basic needs of the family is a blessing that many ministers cannot provide on their own.
The IMPACT
The provision of these necessary items that our servants will receive and/or disperse to the needy, are not just a basic need being met, but an opportunity to end the attention given to the uncomfortable result of the cold.  For just $10, a blanket can be purchased and for $15, a jacket will be provided.
The INVESTMENT: $10 to $15