Light the to the Darkness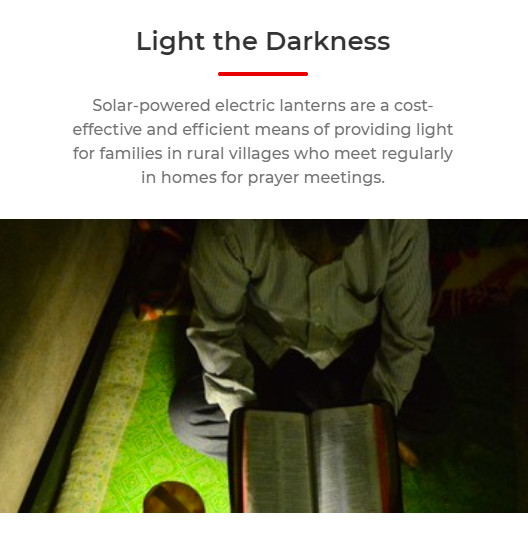 The ISSUE
Christians are often left in the dark. Because of their public faith, front line workers and believers can be routinely denied electricity.  Communities hostile to Christianity persecute believers by ensuring their power is turned off.  Fuel to provide lighting is expensive and flame lanterns contribute to a condition which causes blindness from inhalation of the fumes.  Without electricity or daylight, children cannot study or work on their schoolwork in the evenings.  Solar-powered lanterns give them precious time to study.
The INSIGHT
Solar-powered electric lanterns are a cost-effective and efficient means of providing light for families in rural villages who meet regularly in homes for prayer meetings. In addition, solar lanterns allow believers to read the Word of God in areas where power is unavailable or prone to power surges. When Village Messengers visit remote villages, their only source of light may be the solar lantern they have brought with them. Each lantern provides about four hours of light after a full day's charging.
The IMPACT
The provision of a Solar Lantern to Pastor B, the house parent at Grace Kids in Asia, has been a real blessing for the children and the leaders. The frequent power outages in the area hindered the children from their studies and made it unsafe to go out at night. But the gift of solar-powered lanterns changed everything. In fact, a midnight trip to the bathroom with the solar lantern revealed a menacing scorpion on the floor where Pastor B, his wife, and the children had been sleeping. Immediately, he killed it and thanked the Lord for His divine protection and the provision of the lantern at such a crucial stage.  He expresses his heartfelt thanks and gratitude to Alpha Ministries. You can provide the valuable gift of a simple lantern that can make great impacts to quality of life.
The INVESTMENT: $100